The Vineyards...
At Boeschen Vineyards we understand both the importance of growing world-class grapes and the advantages that come with managing our own vineyards. Our wines are made entirely from fruit grown on our 11-acre estate vineyard, so we take great pride in our farming, knowing each cluster could end up in a bottle with our name on it.

We grow six varieties of grapes for blending purposes, but two-thirds of the vineyard is planted to Cabernet Sauvignon. For such little acreage, the vineyard possesses a wonderful variety of soil types, topographical features and micro-climates, none better for growing good Cabernet than the south-facing hillside Terraces blocks. Those vineyard terraces are carved through dense layers of black, volcanic obsidian that help to stress the vines while giving us clues about the people and forces that originally shaped our valley.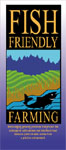 We believe strongly in the idea that we are only the latest in a long line of stewards of our land, and we farm according to a long-term sustainable program. To farm with minimal impact, we employ a no-till approach in the vineyard, utilize beneficial insects and predatory birds, minimize water use and vineyard inputs, and remain sensitive to our constantly changing ecosystem. We are proud of our Fish Friendly Farming (Napa Green) certification provided by the Napa County Ag Commissioner, our Regional Water Quality Control Board and the National Marine Fisheries Service. The certification recognizes our ongoing efforts to act as responsible stewards in protecting the Napa River watershed and Howell Creek as it flows by our vineyard.